Fiji Airways Network Changes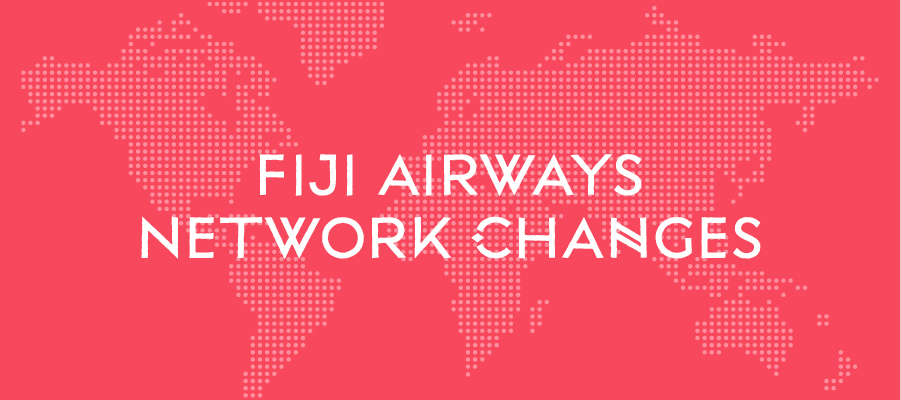 INTERNATIONAL FLIGHTS
Fiji Airways, Fiji's National Airline, has suspend all international flights until the end of May. The move follows the unprecedented nature and scale of the challenges posed by the COVID-19 pandemic, which is causing travel demands to plummet due to health concerns and state restrictions.
The almost complete shutdown of all international flights is necessary to respect the various border control restrictions now in place, including from its Nadi hub.
The suspensions are in place until the end of May, and may be extended further if travel restrictions remain in place. Working with foreign embassies and Governments, Fiji Airways will mount one-off recovery flights on an ad-hoc basis during the suspension period as necessary to allow citizens/residents to return home or to their point of origin. The affected flights are being cancelled now. Fiji Link's domestic services will continue as scheduled for now, and will be reduced due to demand.
DOMESTIC FLIGHTS
Fiji Link, Fiji Airways' subsidiary, will suspend domestic operations to all outer-islands, in line with Government directives. Suspended services include flights from the Nadi and Suva hubs to Labasa, Taveuni, Savusavu, Kadavu, Vanuabalavu, Lakeba, Cicia, Koro, Rotuma.
Customers holding bookings for flights which are now suspended can rest assured that their bookings are safe and can be used for travel at a later date.
Fiji Link will announce resumption of domestic services after approvals from authorities.
PLEASE EXPECT EXTENDED CALL WAIT AND HOLD TIMES
Due to the unprecedented nature and scale of the current situation around COVID-19 and state restrictions, we are experiencing extremely high call volumes at our Reservations Centre, our Customer Care portal, Tabua Club Priority Line and social media channels.
Click here for more information on how to rebook your travel or claim travel credit.
FLYING SOON?
We will be contacting all Fiji Airways customers affected by these changes in the coming weeks. Calls will be prioritized in order of travel date and due to the volumes of the changes, we kindly ask for you to wait to be contacted unless your travel is imminent.
CLOSURE OF LOUNGE & EXTENSION TO ALL TABUA CLUB MEMBERSHIP
Fiji Airways wishes to advise of the temporary closure of its Fiji Airways Premier Lounge in Nadi until further notice due to the global travel restrictions.
All Tabua Club memberships will receive an extension to their membership and all Tabua Club Plus members will automatically keep their status for the next 12 months.